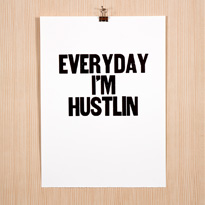 Hustlin Hustlin Hustlin…
Want to start making more money this month?  Time to grind.  September 1st is coming up and the first of the month is your opportunity to step your game up.
A little background.  I've was in a slump, a bad one.  I was making a decent living (nothing baller, but comfortable) as a full time affiliate and 2011 was my first year living strictly off my affiliate income.  Then things took a turn for the worse.  I had several campaigns go down some were just burned out and others were just some bad luck.  Ups and downs are just part of the game, but understanding that is one thing and taking action against it is another.
Complacency is probably my #1 enemy to stacking paper.  When my income took a big hit I was left with nothing, because I had gotten to a point where I had a few good camps going that were making 90% of my income and I like many affiliates got lazy and lost my hustle.  Sure I would get a random idea and launch a campaign here and there, but really if I had to make a pie chart of what my actual online activity was looking like it would be large slices of bullshit and stat checking.
When things go sour getting motivated can be even more difficult.  Years of outside sales experience have taught me the importance of a positive mindset and how it can effect your business.  It's no coincidence that I would get on "hot" streaks where closing deals was a habit and seeing the money rolling in only made me want to hustle harder.  Affiliate marketing is no different in that when I have a hot campaign I suddenly find all of my focus goes into work and other things in life…well they just don't matter as much.
Right now I'm back on track and it's really, because of two things.  First I joined the Stack That Money Forum.  No this isn't my attempt to push guru shit, it's about what I found inside.  Several people on the forum have follow along campaigns, and there have been a few contests that centered around picking a traffic source, a niche, setting a budget, and jumping in.  I recently participated in one of these and although I wasn't able to get the campaign profitable  it got me back in the habit that has brought me success in the first place and that is…
LAUNCH CAMPAIGNS DAILY!
Seriously.  If your not setting a goal of getting new camps/ads/etc. launched on a daily basis your not working hard enough and you sure as hell ain't hustlin.  I don't care how many hours you sit at your desk, none of it matters unless your taking action.  (in fact my earnings this month have gone way up and i'm spending a fraction of the time working on AM stuff that I was before)
I've seen not only myself, but several other affiliates on the forum show profitable progress from doing nothing other than setting a challenge such as launch a few camps per week.
Affiliate marketing isn't just about throwing shit at the wall and seeing what sticks (although it's the reason plenty of people with relatively little marketing experience are able to find success), but it is about testing.  Testing means actually launching camps, spending money, collecting data, and trying over and over again until something works.  Sometimes you win based on pure grit and determination and others it's the pure luck of stumbling into something profitable in your mad dash to meet that daily hustle goal.  Either way if your not playing the game you have no fucking chance of winning, so mark that calender, write on your white board, set a goal, and get paid in September.
Cheers to the hustle,
Strov
§ One Response to Creating Profitable Campaigns: The Rick Ross Method