[Disclaimer:  The following post is not paid and contains no affiliate links]
So recently I was contacted to checkout a new tool for FB/POF advertisers called FBAdsToolbox.
Pretty simple concept, you upload an image, quickly crop it to 110×80 within the tool and it spits out currently 82 variations of that image.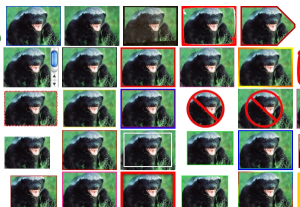 The tool works really fast and you can simply download the images you want to split test.  Currently there is a suggested FF plug in to download them all, but the creator has stated this feature is coming soon.
So are these variations any good?  Personally I really like a lot of them, but of course there are a few I wouldn't use.  To put this tool to good use I decided to whip up a quick test on POF with some of the variations the tool created.
So here are the results!

Control:  0.000% CTR

Test 1:  .072% CTR
Test 2:  .138% CTR

Test 3:  .060% CTR

Test 4:  .038% CTR

Test 5:  0.000% CTR
So it looks like honey badger #2 was the clear winner.  He could give a shit.
Obviously I didn't run the real test with honey badger photos, but these were the effects I chose to use.  I was pretty surprised at how much of a difference the narrow border made.  This isn't anything ground breaking, if you split test creatives and effects you will find differences and winners/losers.  For an AM like me a tool like this is really helpful since I spend more time testing copy and angles than I do making a bunch of little effects.  Could I simply do them myself?  Yeah sure, but I could also roll my own cigarettes too (god I miss smoking).  I'm a photoshop monkey at best so doing some of these effects myself would be more time than it's worth.  Overall I'd say the FBadstoolbox is pretty sweet for POF/FB affiliates and word is new features will be coming soon.
If your interested in the tool feel free to check it out, and never stop split testing.
Cheers,
Strov