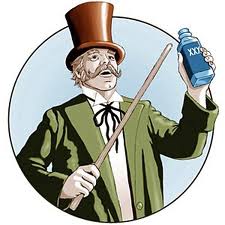 99% of internet marketers are either lazy or uncreative.  Sometimes both.
You'd think in a world where the motto is "hustlin & ballin" that nobody would ever dare consider doing anything even remotely lazy, but it happens to us all.  No I don't hate the player, I hate the game baby. (I can't even fathom saying that in real life with a straight face)
What I mean is that affiliate marketing is just too damn easy.  Want to start selling diet products? Here's your link.  Congratulations your now a business owner!  Hell I see threads on forums all the time where most guys can't even explain how to explain what they do to regular folks and out of all the suggestions one you rarely see is "I own a small business".
This complete disconnect, lack of investment, and separation from ownership has its perks, but it's also responsible for a lot of people getting into a cycle of churning out absolute dog shit for campaigns.
As this post is titled "If You Don't Buy It Why The Hell Would Anyone Else?"
Take a step back and review your campaigns.  Read the advertisements you've made.  Take a very close and thorough look at the advertisers offer page.  Sit and stare at the landing page you just built and read the copy over to yourself a couple of times.  Do you believe any of this crap?  Now I'm sure that you have yourself convinced that you're quite the genius, but does that mean other people are really that dumb?
Walk a mile in your user's shoes and think about the real thought process that goes through every one of your campaigns from a user perspective.  If you clicked an ad that said "Meet Hot Russian Women In Alabama Tonight!" and that took you straight to some random sign up form that appears to be a dating site would you sign up?
We marketers whisper a quite chuckle, because "we're in the know".  I think this is what allows us to under estimate the consumer and forget to do things in our ads such as actually be convincing.  Don't get me wrong people as a whole are dumb, narrow minded, and complete A-holes, but the consumer these days is a lot sharper than they used to be.
Z6 Marketing knows (We Are Not Our Target Demographic), and its not always easy to share a users perspective.  However spending a couple minutes to review that campaign that didn't work and asking the question "Do I believe this?" might just be enough for you to find the answers your looking for.
Cheers,
Strov